Commitment to Community
Randy Wise Homes, Inc. has a solid commitment to support the community. As a life long resident of Niceville, Randy not only has personal ties, but pride in developing the community.
His contributions include supporting the community athletic leagues such as P.A.L. Soccer, Niceville-Valparaiso Little League, Okaloosa Walton Community College Raider Club, and the Niceville High School Booster Club.
In 1999, Randy Wise Homes volunteered as the general contractor to oversee construction of the Emerald Coast Children's Advocacy Center, which serves as the coordinating headquarters for handling local child-abuse cases. In addition to overseeing construction, Randy also coordinated the volunteer efforts of the project and now serves on the CAC Facilities Committee. Planning and construction of the 12,000 square-foot facility took over a year, and for his efforts Randy received the 2000 Industry Pride Award issued by the Okaloosa-Walton Building Industry Association.
In 2001, Randy was elected to serve as President of the Okaloosa County Habitat for Humanity. During its first 25 years, this international organization has been blessed to build houses with some 100,000 families worldwide-providing simple, decent, affordable shelter for more than 500,000 people.
Randy Wise Homes Partnering with Building Homes for Heroes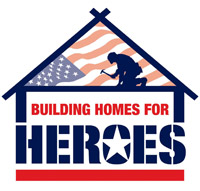 Randy Wise Homes, Inc. of Niceville, Florida was selected by Building Homes for Heroes to build the homes for three local wounded veterans, Army Staff Sergeant Aaron Hale, Air Force Master Sergeant Joseph Deslauriers and Air Force Captain Nathan Nelson. Staff Sergeant Hale was presented with his new home on April 6, 2013. Master Sergeant Deslauriers and family were gifted their new home on October 25, 2014, and Captain Nelson and his family received their new home on December 16, 2017.
Building Homes for Heroes is a national non-profit, organization founded in 2006 that builds homes from the ground up or modifies existing homes to meet the needs of wounded soldiers who have returned home from wars in Iraq and Afghanistan with severe wounds and disabilities. These mortgage free homes not only help to remove the family's financial burden, but they also help to restore the individual's freedom, and enable the veteran to lead a more independent and productive civilian life.
Army Staff Sergeant Aaron Hale – Home Presented on April 6, 2013
Click this link to view video of Hale Celebration Event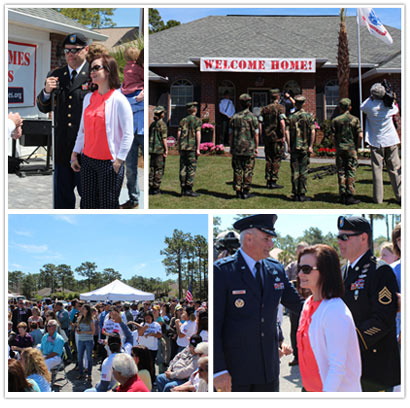 On December 8, 2011, Army Staff Sergeant Aaron Hale was severely injured in Afghanistan when an improvised explosive device (IED) detonated. Hale suffered from multiple facial bone fractures, severe burns to his face and upper thighs, crushed sinuses, blown ear drums, and as a result of the blast and the shrapnel, Hale was left completely blind. To help with his disability, Building Homes for Heroes and Randy Wise Homes presented the Hale Family with a new home, a "smart house" with electronic devices, including an upgraded kitchen, which will help Aaron be more self-sufficient. Different flooring was installed in each room to help Aaron know where he is. Aaron's wife, Kelly, is fighting melanoma, so the home has a Florida room so she can have a place out of the sun to watch their four children play. Hale, of the 760th EOD (explosive ordinance disposal), served a tour in Iraq and two tours in Afghanistan.
Air Force Master Sergeant. Joseph Deslauriers – Home Presented on October 25, 2014
Click this link to view Deslauriers' Groundbreaking video coverage
Click this link to view Welcome Home Ceremony video coverage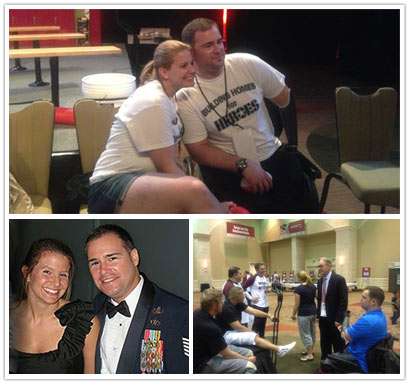 Air Force Master Sergeant Joseph Deslauriers was injured in September 2011 when on a combat operation in Afghanistan. Deslauriers was mounted in a mine resistance vehicle conducting a post blast assessment of an IED explosion. In an effort to get a closer look at the damage done by the IED blast, MSgt. Deslauriers dismounted and stepped on a secondary mine. The explosion that ensued resulted in Deslauriers losing both legs above the knee, and his left arm at the elbow.
Deslauris and his wife, Lisa, have a son. Deslauriers carried out two tours of duty in Afghanistan and served in Iraq, Kuwait and Kosovo.
Air Force Captain Nathan Nelson (Ret) – Home Presented on December 16, 2017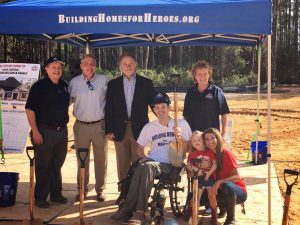 While serving his third tour in Afghanistan, Captain Nelson and his special operations team were under attack by heavy fire when he was exposed to a rocket blast that severely injured the lower half of his body. Captain Nelson was immediately transported to the Walter Reed National Military Medical Center and after dozens of surgeries and ongoing rehabilitation; he has no movement below his waist and limited use of his hands.
For more information call (850) 678-9473 or email info@randywisehomes.com.
WANT TO DONATE?
All donations are tax deductible and greatly appreciated. Please make checks to: Building Homes for Heroes.
Mail checks to: Randy Wise Homes, 127 N. Partin Drive, Niceville, Florida 32578
WE SUPPORT THE MILITARY!
Whether you are already stationed at Eglin or Hurlburt, or will be coming soon with BRAC, Randy Wise Homes welcomes you! We appreciate what you do for your country and the sacrifices you make for our freedom. Your core values of integrity, service and excellence are also our values, and we hope when you get ready to choose a home, you will choose Randy Wise Homes, Inc.
Randy Wise Homes is a proud supporter of the military. Randy currently serves on the Military Affairs Committee for the Niceville Chamber of Commerce to support the military mission and to enhance the relationship between the community and the military.
He is also a supporter of the Special Forces Warrior Foundation. The Special Operations Warrior Foundation has provided full college scholarship grants, not loans, along with financial aid and educational counseling to surviving children of Army, Navy, Air Force and Marine Corps special operations personnel who were killed in an operational mission or training accident for almost 29 years.
Randy Wise was also the Honorary 58th Fighter Squadron Commander of the 33rd Fighter Wing in 2002.