Aging in Place and Universal Design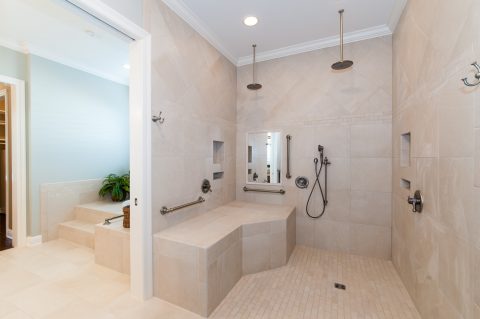 According to the AARP, aging homeowners overwhelmingly prefer to "Age-in-Place" or remain in their existing home safely, independently, and comfortably, regardless of age or ability level. If you are like the majority of Americans over the age of 45, you may want to continue living in a familiar environment and enjoy familiar daily rituals throughout your maturing years. The remodeling division at Randy Wise Homes can make modifications to your home to accommodate your present and future needs.
How Can You Modify Your Home To Make It More Comfortable?
Chances are you will need to modify your home as you mature to increase access and maneuverability. These modifications range from the installation of bath and shower grab bars, to adjustment of counter top heights, to the creation of multi-functional first floor master suites and even the installation of private elevators.
Questions To Ask Yourself When Thinking About Modifying Your Home
Do I want to add a bathroom and possible a bedroom to the main level?
How can I make my kitchen more functional?
Am I worried about preventing falls?
Will other members of my family benefit from modifications?
Will remodeling increase the energy efficiency of my home?
Randy Wise Homes, Certified CAPS Specialists

CAPS (Certified Aging-in-Place Specialist) is a program developed by the National Home Builders Association in conjunction with AARP to address the needs of aging homeowners wanting to remain in their home for as long as possible.
The Certified Aging-in-Place Specialist program teaches the technical, business management, and customer service skills essential to competing in the fastest growing segment of the residential remodeling industry … home modifications for aging in place.
A Certified Aging-in-Place Specialist (CAPS) has the following training:
The unique needs of the older population
Universal design home modifications
Common remodeling projects
Solutions to common barriers
The Remodeling Division of Randy Wise Homes will assist you in making your home a home for a lifetime.
*Randy Wise and Debbie Wise of Randy Wise Homes, Inc. have successfully completed all of the requirements to earn the CAPS designation. All information courtesy of National Association of Home Builder.