Air Force Captain Nathan Nelson and his family receive a mortgage free home in Santa Rosa Beach!
Posted on December 18, 2017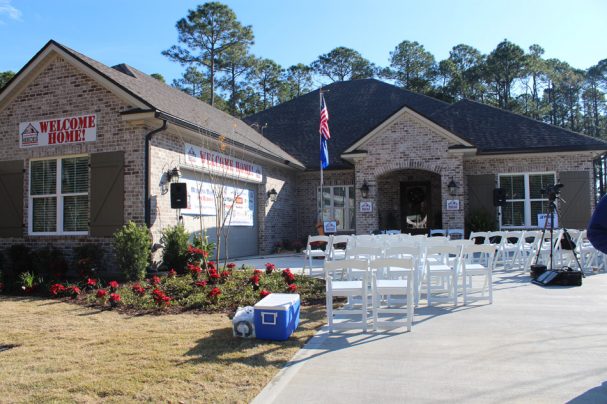 On December 16, 2017, the national nonprofit organization Building Homes for Heroes® gifted Air Force Captain Nathan Nelson and his family a mortgage free home in Santa Rosa Beach, Florida! The home was built from the ground up by general contractor Randy Wise Homes to meet the needs of Captain Nelson. To date, Building Homes for Heroes® has given homes and new opportunities to more than 100 families like the Nelsons across the nation.
While serving his third tour in Afghanistan, Captain Nelson and his special operations team were under attack by heavy fire when he was exposed to a rocket blast that severely injured the lower half of his body. Captain Nelson was immediately transported to the Walter Reed National Military Medical Center and after dozens of surgeries and ongoing rehabilitation; he has no movement below his waist and limited use of his hands.
Joining in the festive celebration was military personnel, state and local dignitaries including U.S. Congressman Matt Gaetz and Representative Mel Ponder, members of the construction team, community members, corporate sponsors, members of civic organizations, family members and friends, police officers, and firefighters. The founder and president of Building Homes for Heroes®, Andy Pujol was there to welcome the Nelson Family home. The organization is rooted in Pujol's personal involvement following the terrorist attacks of September 11, 2001. Pujol was among the thousands of volunteers who aided in the rescue efforts at the World Trade Center. That experience moved him to continue helping others, focusing his efforts on the severely wounded men and women of the U.S. military.
Counting ten consecutive years of record-setting growth, Building Homes for Heroes® builds and gifts mortgage-free homes, and completes home modifications, for veterans and their families, and provides further services along their road to recovery to help them live a promising and fulfilling life ahead. The organization is strongly committed to rebuilding lives and supporting the brave men and women who were injured while serving the country after September 11, 2001, during the time of the wars in Iraq or Afghanistan. After gifting 28 homes in 2015, Building Homes for Heroes® gifted 29 homes in 2016, including its milestone 100th overall home in November. The organization has its sights set on gifting as many as 36 homes in 2017, and one home every 11 days in 2018. It"s our honor to support the men and women who have loyally and courageously served our country. To learn more about the organization, visit www.buildinghomesforheroes.org.
"We would like to thank all of those who pulled together to donate materials and labor to this home. Those seeds will bear fruit as Nathan and Jen Nelson committed to support others with similar situations and to give back to the community they have made their home," said Randy Wise.
Event Photo Gallery: 
Jump to Gallery End
Jump to Gallery Start
---