Randy Wise Homes & United Bank to Donate to Two Local Foundations
Posted on February 1, 2018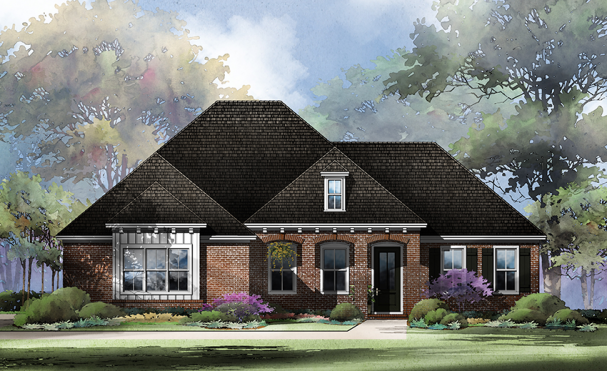 BAKER, FL – In an effort to give back to the community, and to honor the memory of a special young person and our military and their families, home developer Randy Wise Homes together with United Bank have pledged to donate proceeds from the sale of a Mill Creek Farms residence to both the Taylor Haugen Foundation and the Special Forces Association, Chapter VII.
A ground breaking ceremony planned for March 6, 2018 will showcase the plans to provide the proceeds to each foundation following the sale of the residence in Baker, Florida.  The groundbreaking heralds the rise of another Southern-style brick bungalow home in the rich, wooded area of Mill Creek Farms where small-scale gardening, large 2/3 plus acre homesites, and a rural setting are enticing new home buyers. The Mill Creek Farms development has earned industry recognition for high architectural standards and sets itself apart for conservation and energy reduction with its eco-friendly homes and landscaping.
The public is invited for refreshments at the groundbreaking ceremony, set for 1:30 p.m. on Tuesday, March 6th at Mill Creek Farms. Directions: Located just South of Baker on Hwy 4, next to the Baker Recreational Center at 1486 Mill Creek Drive, Baker, Florida.
Randy Wise Homes, Inc. has been a leading builder in Northwest Florida for forty years. The company's mission to offer "excellence in the construction industry with a strong ethical code that honors Godly principles in all aspects of life" is the basis for the unusual donation to both foundations.
The Taylor Haugen Foundation was created to honor the memory of the 15-year-old Niceville High School student who passed away after an injury sustained during a football game in 2008. In spirit of Taylor's extraordinary character, the mission of the Foundation is to provide support and recognition to faith-based, athletic students and community organizations through awards, scholarships and funding. The Foundation serves to recognize the following attributes and character traits: Christian faith, athletics, community service, academics and leadership.
The Special Forces Association, Chapter VII exists to support the soldiers and families of the 7th Special Forces Group (Airborne) "Green Berets." The Chapter assists the "Green Berets" in time of need with Wounded Warrior Support, memorial support for our fallen heroes, financial grants to soldiers and families of the unit in times of catastrophic life changing events, welcome home parties for our "Green Berets" who are constantly deployed throughout the world on sensitive missions, and scholarship funds dedicated specifically to 7th Special Forces Group children. Both foundations will be recipients of proceeds from the Mill Creek Farms home sale.
For more information on the Taylor Haugen Foundation, please visit www.taylorhaugen.org or call (850) 842-9093. To learn more about The Special Forces Association, Chapter VII visit www.sfa7.com or call (850) 217-9371.
About Randy Wise Homes, Inc.: Randy Wise Homes, Inc. is a locally owned general contracting company located in Niceville, Florida, with services provided to Northwest Florida including, but not limited to Niceville, Destin, Fort Walton Beach, Freeport, Santa Rosa Beach and Crestview. Randy Wise Homes is a Southern Living Custom Builder Member and specializes in custom built homes and remodeling. Classic and Craftsman Homes, provide a variety of floor plans from which to choose, and can also be customized to the owner"s desires. Randy Wise Homes" goal is to achieve an honest combination of function and design so that the sum of those is a practical, warm, and inviting living space that families will enjoy for many years to come. For more information, please visit www.RandyWiseHomes.com or call 850-678-9473.
About United Bank: Founded in 1904, United Bank has a rich history of serving the communities of Southwest Alabama and Northwest Florida as only a community bank can. United Bank provides the latest conveniences alongside hometown customer service that generations before would be proud of. United Bank is routinely recognized as one of America"s strongest banks and is committed to providing the exceptional customer service their customers have come to expect. For more information, please visit www.UnitedBank.com or call 1-800-423-7026.
CONTACTS:
Randy Wise, Randy Wise Homes, Inc. – 850- 678-9473
Tonya Lambert, United Bank – 1-800-423-7026
Sam Smith, Special Forces Association, Chapter VII – 850-217-9371
Kathy Haugen, Taylor Haugen Foundation – 850-830-2178
---